South Korea has truly made a resounding impact on the global stage, primarily through the irresistible allure of K-pop, delectable cuisine, and captivating culture. As a result, throngs of eager tourists converge upon the enchanting land of South Korea. However, for those who have yet to set foot on its shores, some nations, such as Japan, boast vibrant enclaves known as Korea Towns, offering a tantalizing taste of what South Korea has to offer. While I haven't had the pleasure of experiencing it firsthand, for now, I take delight in exploring these cultural hubs.
Korea Towns in Japan
I've had the pleasure of visiting two captivating Korea Towns on my journeys: Osaka's lively Tsuruhashi Korea Town and the bustling Shin-Ōkubo Korea Town in Tokyo.
Since my visit to Shin-Ōkubo's Korea Town is still fresh in my memory, as it was only two weeks ago, that's what I will recount thoroughly in this post.
Shin-Ōkubo, Tokyo: The K-pop Wonderland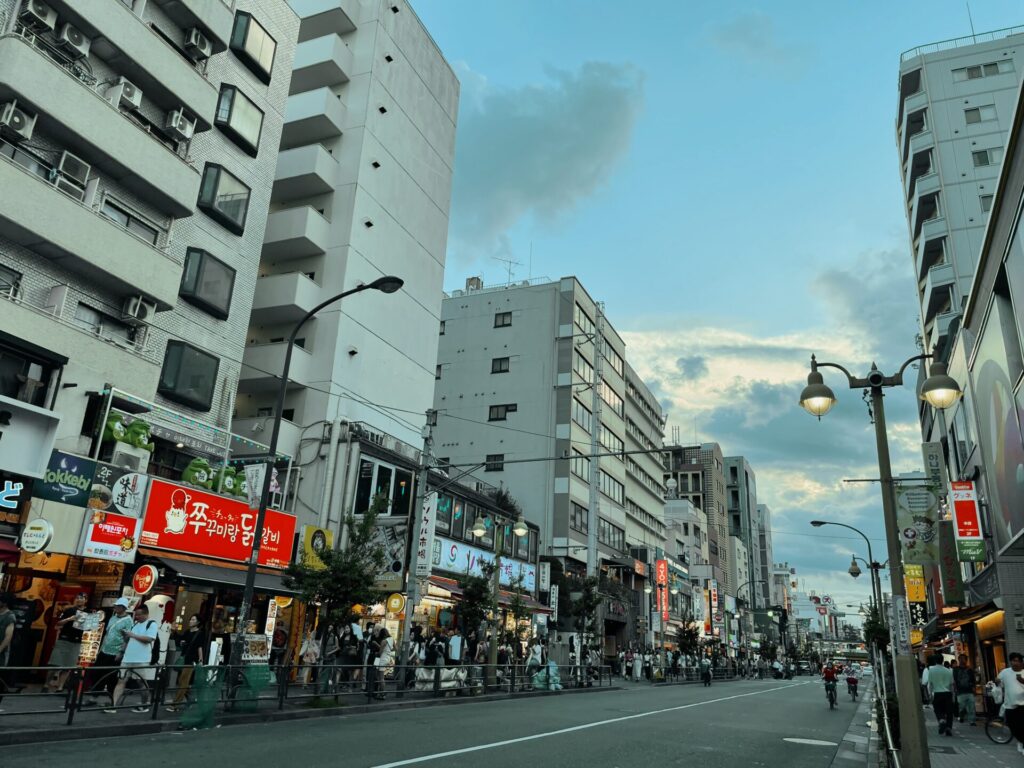 My discovery of Shin-Okubo's Korea Town was an unexpected surprise, one that I owe to my visit to Tsuruhashi's Korea Town in Osaka. While researching Osaka's Korea Town, I stumbled upon this hidden gem, and it opened up a new chapter of exploration.
It was a delightful twist of fate, my journey to one Korea Town unveiled another. This serendipitous chain of discovery enriched my travels, proving that every adventure can lead to unexpected treasures.
Things to do and enjoy
In the bustling streets of Shin-Ōkubo, Tokyo, you'll find yourself immersed in a kaleidoscope of K-pop culture. Neon signs flicker to life as you step into a world where Seoul meets Tokyo.
1. Food
Satisfy your taste buds with mouthwatering Korean street food, the sizzling aroma of spicy tteokbokki and savory kimchi pancakes beckon you to indulge.
I am a corndog fan, so naturally, it was the first thing I searched for. Fortunately, the corndog stand revealed itself to me right away, and I savored every bite with delight!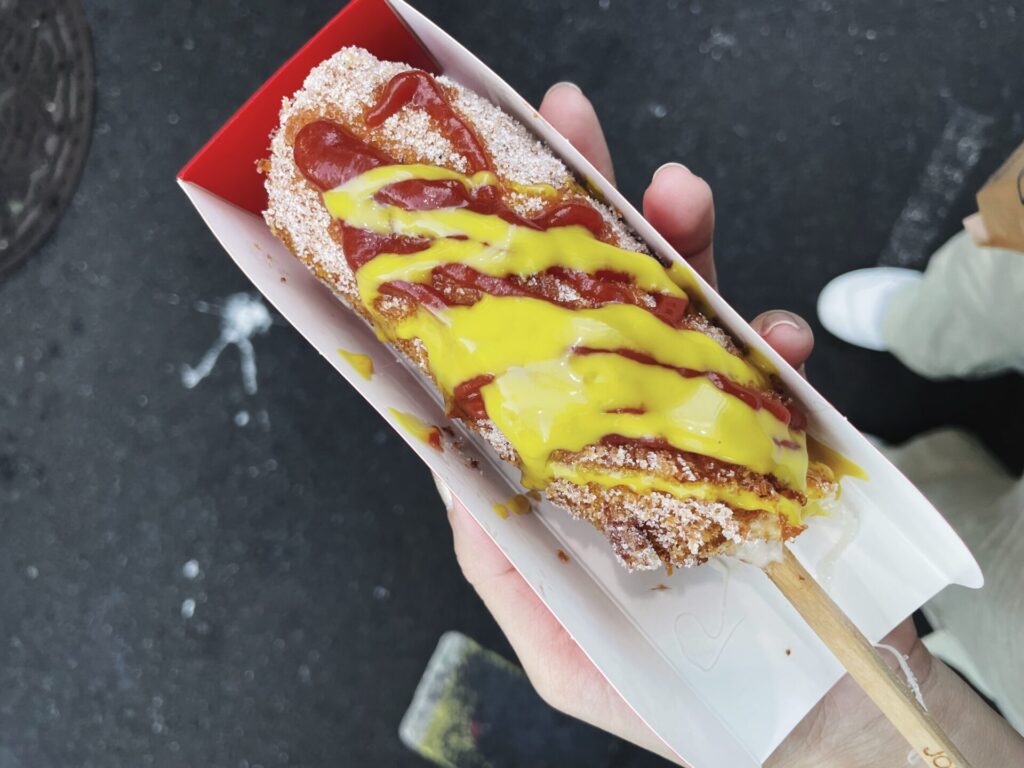 2. Cosmetics
Korea has a well-deserved reputation for producing some of the best cosmetic products, so purchasing them is a logical choice.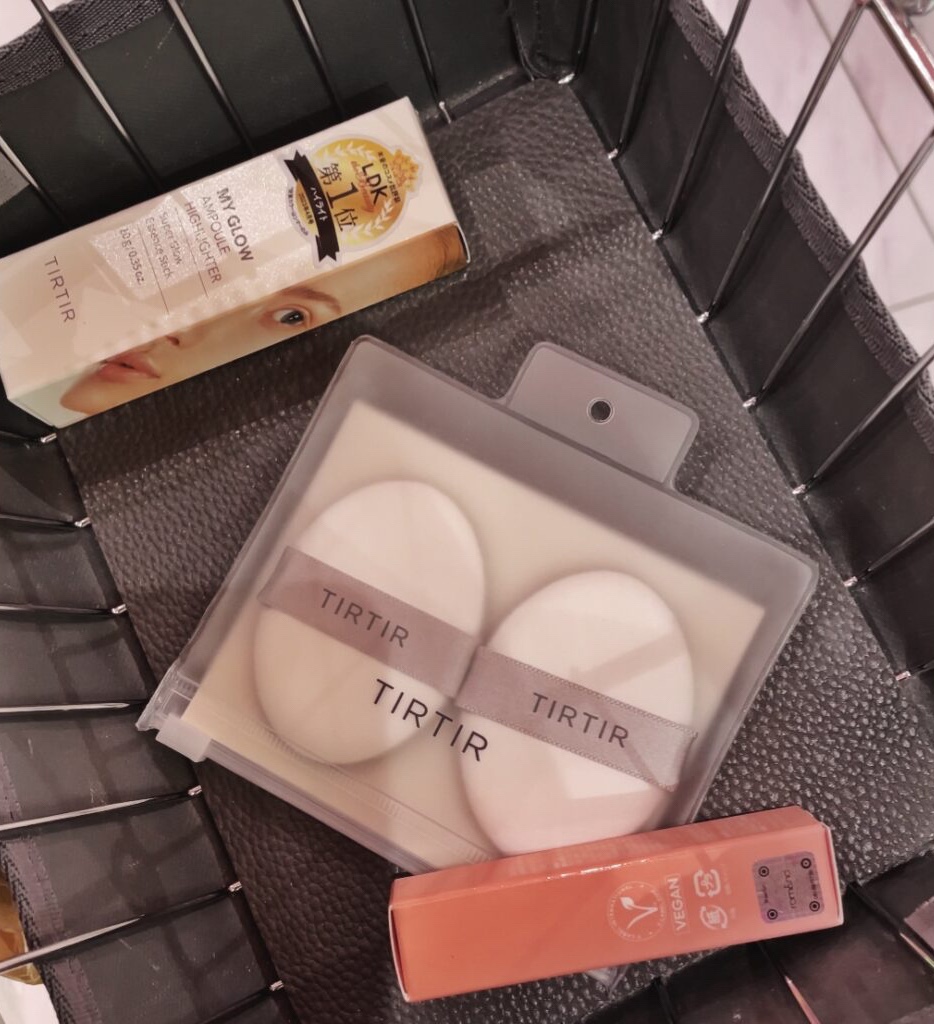 3. K-Pop Merchandise
Stroll along where shops burst with colorful merchandise, from K-pop albums to the trendiest fashion donned by your favorite idols.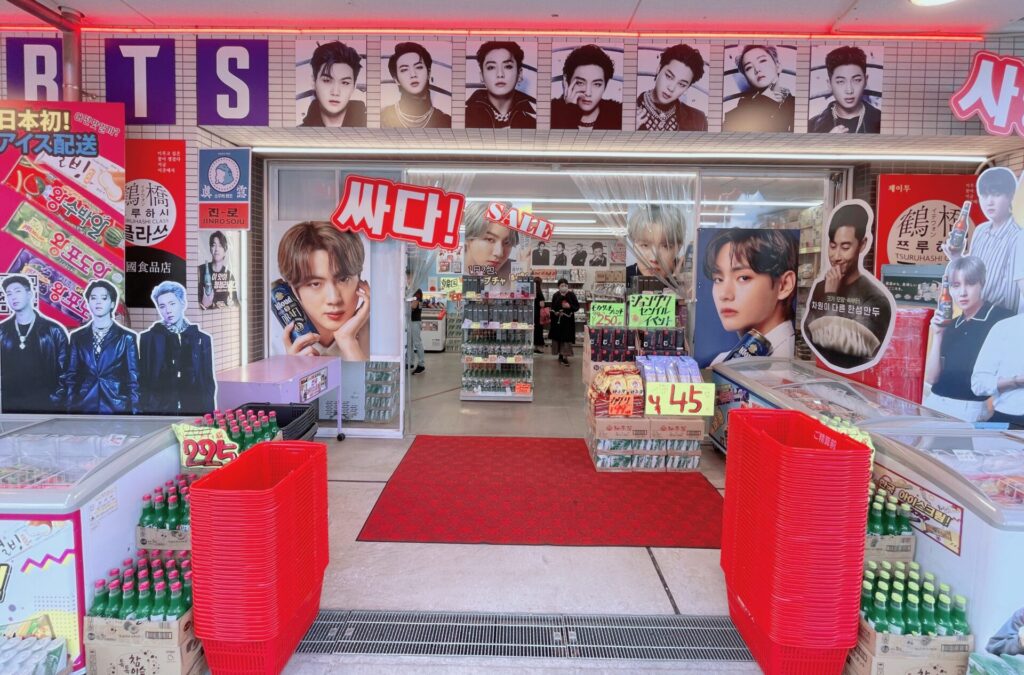 How to go
Japan's Korea Town is situated in Shin-Okubo, right by Shin-Okubo Station, which is part of the Yamanote Line (JR). To reach Korea Town, just exit the station and turn right, then stroll down the main street.
Tsuruhashi: A Slice of Korea in Osaka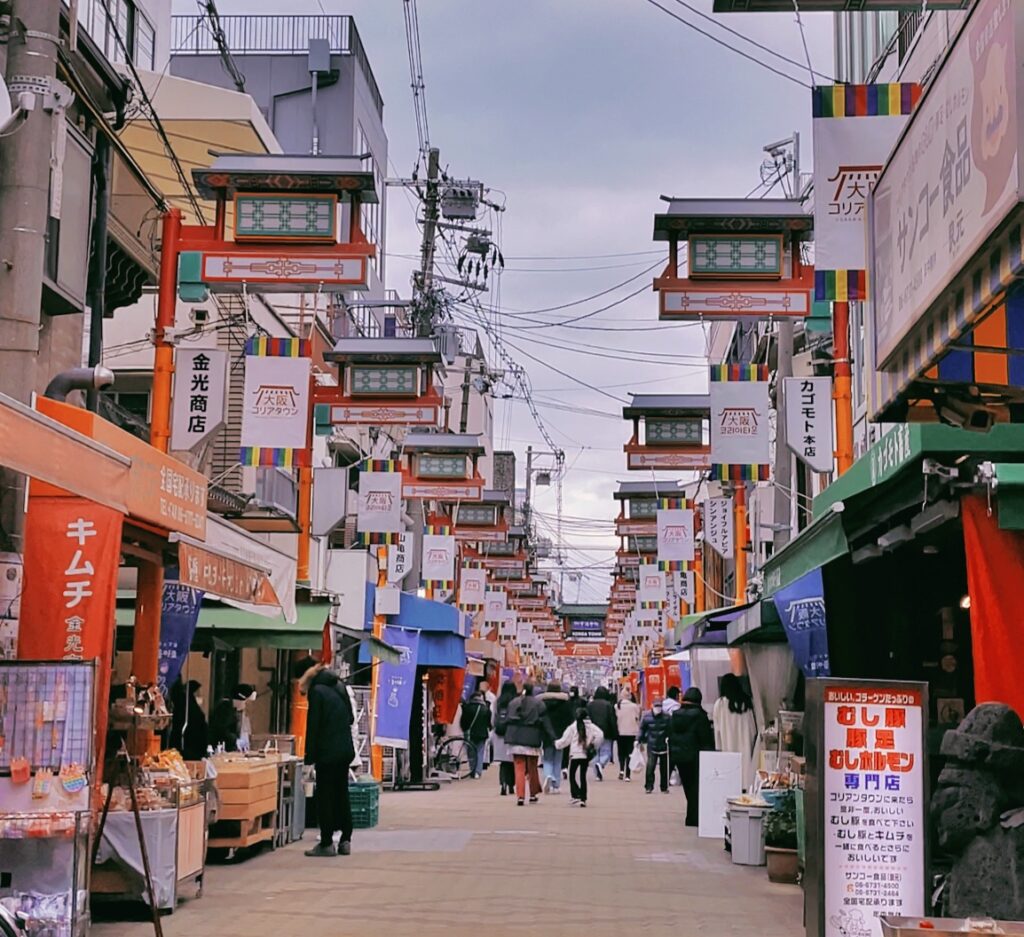 Having been here twice, I can confidently say that this place is larger than Shin-Ōkubo Korea Town. The main street alone, which stretches quite a distance, is only a part of it. Even before reaching the main street, there's a substantial market with a variety of wet and dry goods to choose from. It feels like stepping into another world of Korean markets.
A wide selection of food, cosmetics, restaurants, cafes, as well as meat and vegetables, including various types of kimchi and street food, will tantalize your appetite, making it impossible to resist the temptation to indulge and shop.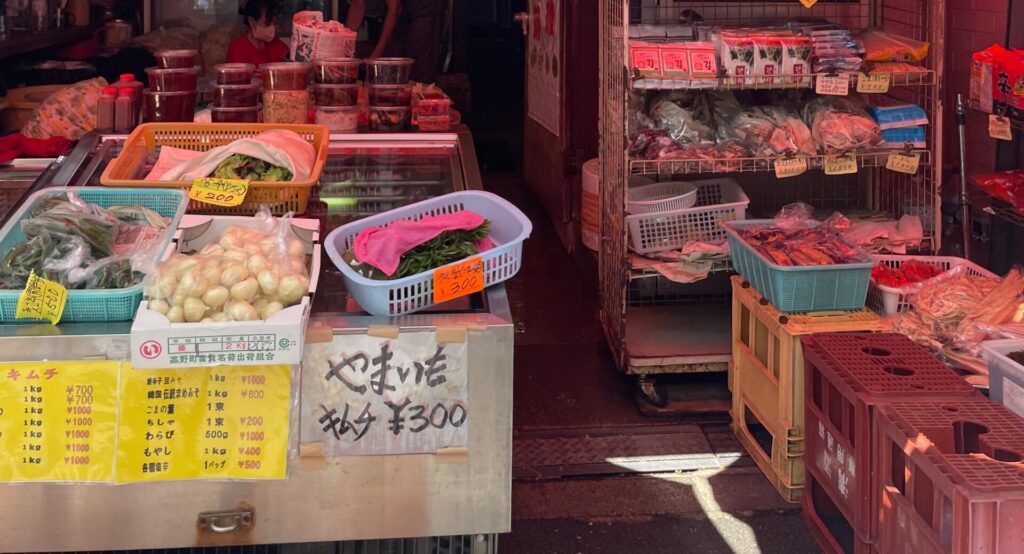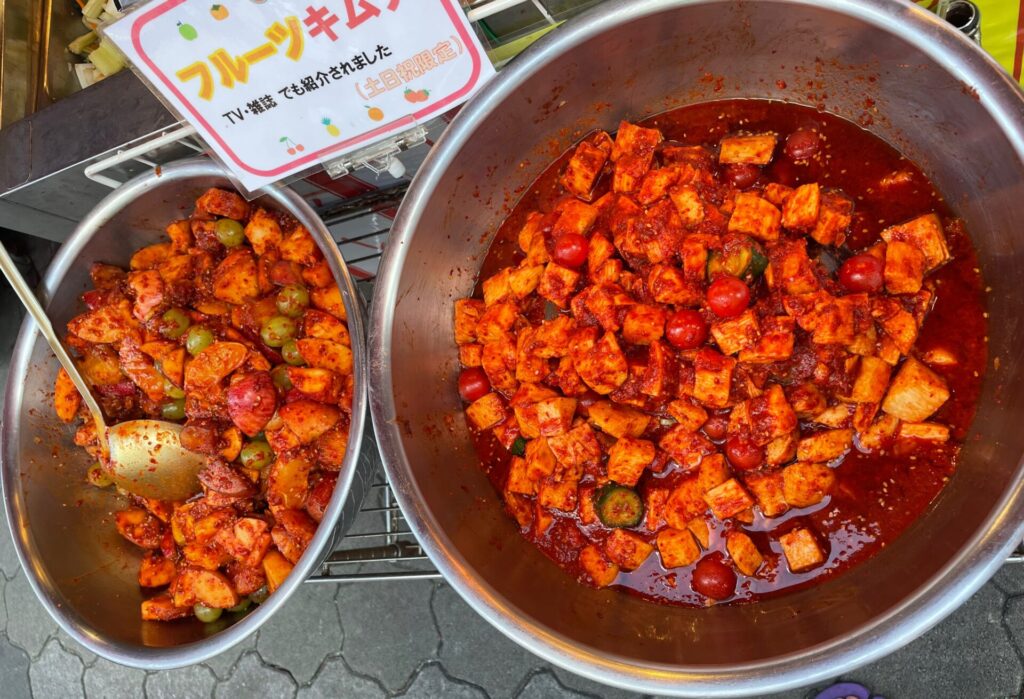 I adore the small stalls offering a variety of Korean foods. They have a distinct charm compared to those in malls. It feels like they're freshly produced and crafted by the owners themselves, and that's what I particularly appreciate.
How to go
You can get to Tsuruhashi by taking the JR Osaka Loop Line (Kanjo-sen) from JR Osaka Station. It's just a 16-minute ride, and the fare is Y180. When you arrive at JR Tsuruhashi Station, head for the West Exit. This exit leads you right into the shopping arcade of Tsuruhashi.