The first thing to do to marry a Japanese national is to get hold of the Legal Capacity to Contract Marriage or LCCM. While to enter Japan as a resident, you need to apply for the Certificate of Eligibility in Japan. You're on the right track if you're here to know the application for the Certificate of Eligibility in Japan.

What is a COE?
Application for the COE in Japan for Status of Residence is a certificate when inviting someone from overseas and wanting them to stay for a long period. As far as I know, the Certificate of Eligibility is the most important and challenging document that a Filipino spouse must acquire to be a resident in Japan because there are many things to consider before the Bureau of Immigration in Japan grants you one.
Who's the applicant?
All foreign nationals wishing to enter Japan (except for visiting Japan as a Temporary Visitor) are required to apply for a COE. This includes:
an overseas worker you wish to employ in Japan
a child or children from overseas you wanna invite to live together
a non-Japanese spouse to live together (I belong in this category).
Necessary Requirements for getting the Certificate of Eligibility in Japan
My husband has been living in Cebu, Philippines, for over four years now. During this time, he hasn't paid taxes in Japan. As taxes play a significant role in obtaining this certificate, we sought assistance from an attorney or a scrivener.
We were asked to submit the following:
original Marriage Certificate
one 2×2 picture
my husband's Koseki Touhon
five photos of us together to prove the relationship
photocopy of my passport
bank statement screenshot of my husband to prove his financial capacity
my bank certificate
Shitsumonsyo that can be downloaded from the Embassy of Japan website
My husband doesn't have a Juminhyou because he's been living in the Philippines for over four years so the lawyer advised us to give three photos and a contract of our apartment.
History of our relationship. To prove that our marriage isn't fake, we submitted a report that includes everything from the time we first met until recently. Additional proofs such as my husband's English online data screenshot because that's how we first met, photos of our travels, and photos with our families.
my husband's written plan to work in Japan
The requirements might differ a bit from yours, so please refer to this Bureau of Immigration site for the standard requirements.
Where to submit?
You should submit it to the regional immigration office in charge of the applicant's intended address. My husband is from Nagasaki, hence, our lawyer applied to the Fukuoka Regional Immigration Bureau Nagasaki Branch.

When should you submit the application for the Certificate of Eligibility in Japan?
Applicants should submit the necessary documents in advance to ensure they receive the certificate before moving to Japan. Let's use our case as an example. We submitted our documents during the first week of December 2018 because we planned to go to Japan in the middle of the year 2019.
How long does it take?
The standard processing time for the COE in Japan is typically one to three months, although it can vary. In our case, we received our COE in just three weeks.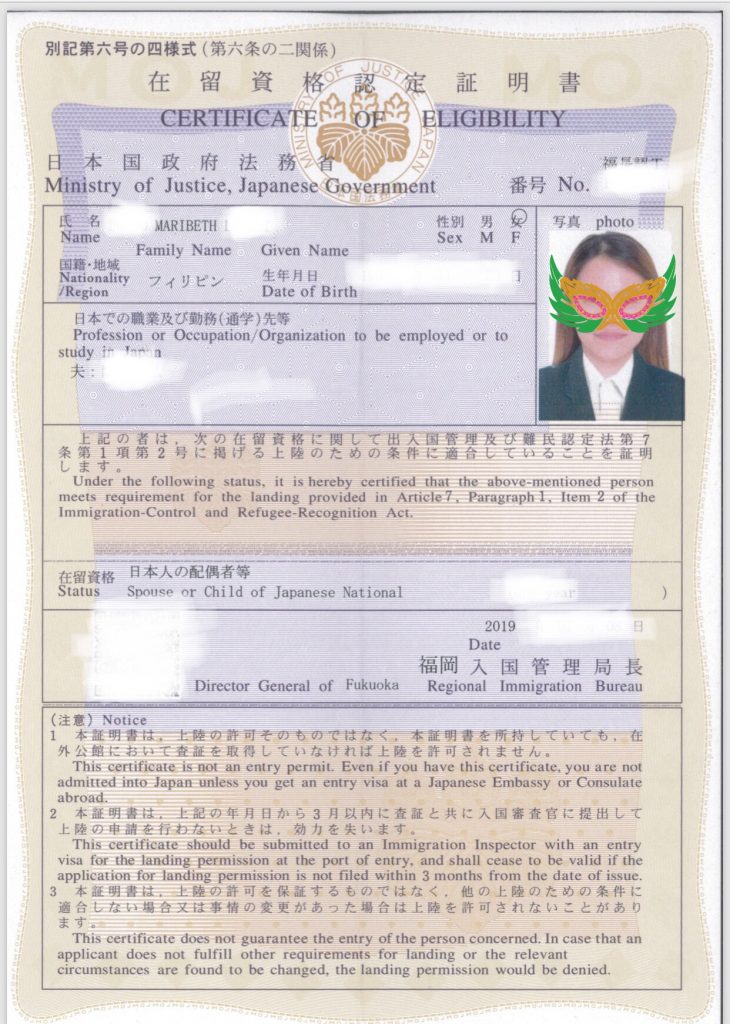 We were thrilled to learn that our application was successful, but there's more to come as we navigate the procedures in the Philippines. Stay tuned for our next posts, and if you have any questions, feel free to send me a message. Best of luck with your application!
Here's a quote on faith that can serve as a source of strength while you await your documents.
"Faith is not the belief that God will do what you want. It is the belief that God will do what is right." ― Max Lucado