Fukuoka is the biggest city on the island of Kyushu. High-end brands booms across the metropolis which is why those from the neighboring cities flock here. Be that as it may, Fukuoka is not only about high-end brands. It also boasts a lot of sightseeing spots for both locals and foreign visitors.
In this post, I'll be sharing with you the things you can do if you're in this city for only a day.
Visit Shrines
This city prides itself on its shrines and temples some considered as the oldest in Japan. A visit to one of them feeds your mind some food for thoughts that will leave you amazed. Here's where you visit.
Kushida Shrine
This is the oldest Shinto shrine in Fukuoka, dating back to the 757. It is also the home to the biggest festival in this city, the Yamakasa Gion Matsuri.
I'll describe the surroundings as pleasant. As you enter the shrine, the 100-year old ginkgo tree catches your attention instantly. You can't miss it because there's no other huge tree there. Other than the ginkgo tree is the sakura trees in full bloom during spring. And further to the back, you can see the ema board. Ema is a wooden plaque where you write down your wishes.
Admission Fee: FREE
Dazaifu Tenmangu Shrine
Dazaifu Tenmangu is a popular Shinto shrine for students to visit before entrance examinations.
As per history, Sugawara Michizane who was a talented scholar rose to power in the imperial court dominated by the Fujiwara clan during the Heian Period. As rivals, the Fujiwara clan was unhappy about it, so they exiled him from Kyoto to the remote area of Dazaifu. He was treated unjustly and later died. Shortly after his death, Japan was ravaged by natural disasters and a plague. Many people believed it was his spirit angered by how he was tortured when he was still alive. So, to appease, offerings were made and this shrine was built on the site of his grave.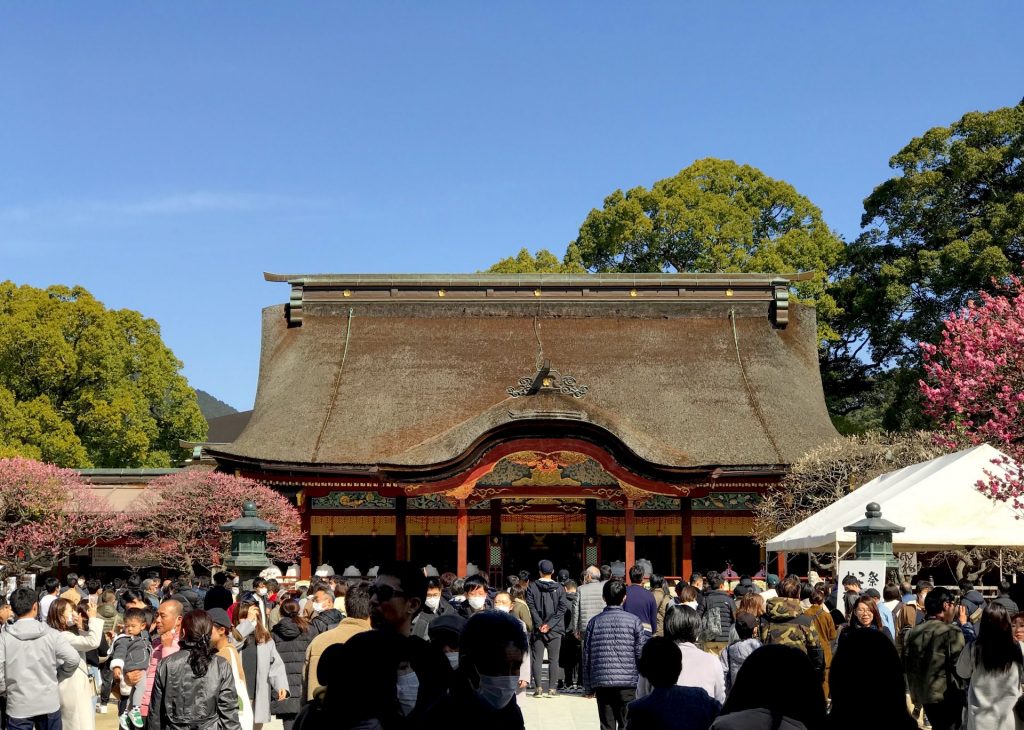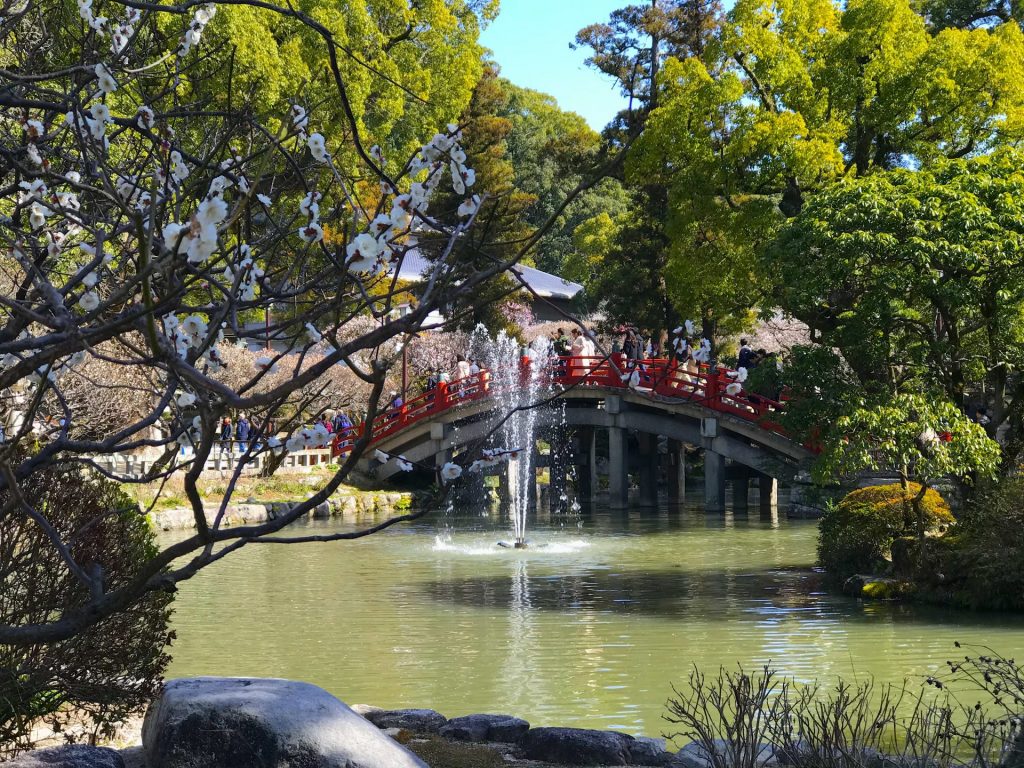 Admission Fee: FREE
Shop in Tenjin Fukuoka
Tenjin is the place that caters to your shopping needs. Daimaru, Tenjin Core, Parco, and Loft are department stores teeming with high-end brands like Louis Vuitton, Gucci, Chanel, Moncler, to name a few. If you've been eyeing on one of these brands, you know where to go.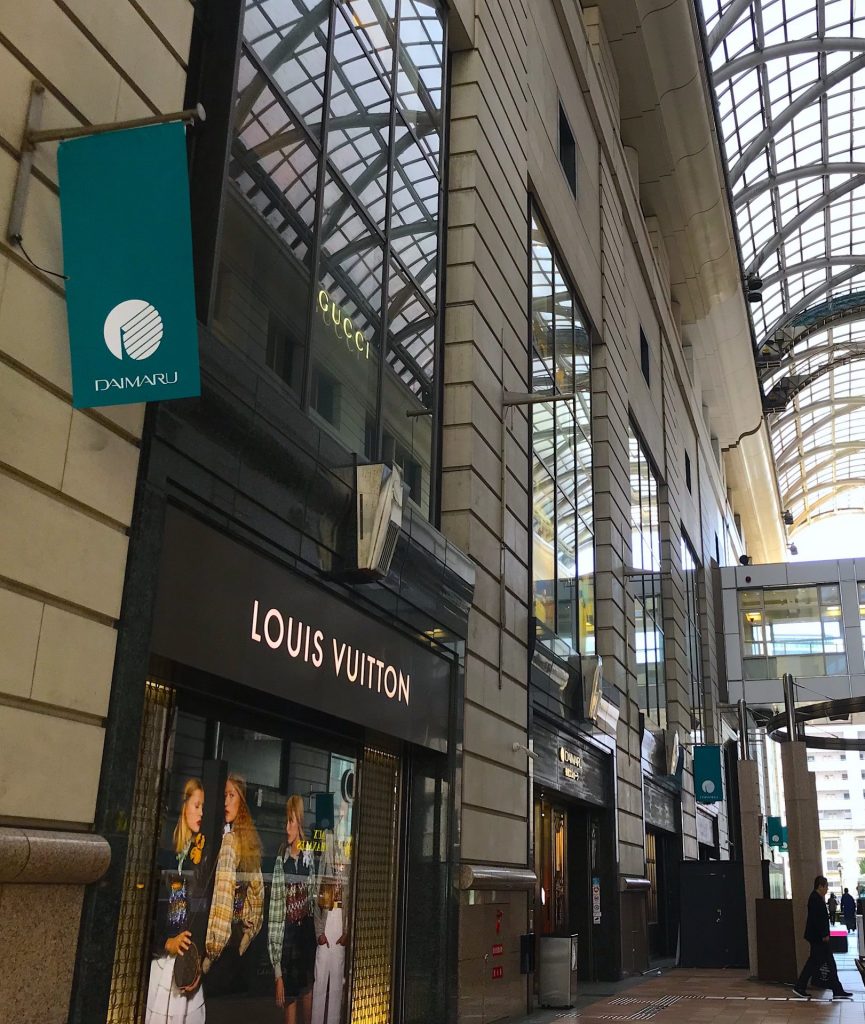 Eat Fukuoka's tonkotsu ramen
Fukuoka is the home to Japan's infamous tonkotsu ramen. For those who have no idea what tonkotsu is, it's a Japanese broth from pork marrow. It's a shame if you're in Fukuoka and you miss out eating it knowing it's the place where it originated. Be sure to try the original tonkotsu ramen and see the difference in regard to its taste. What do you think?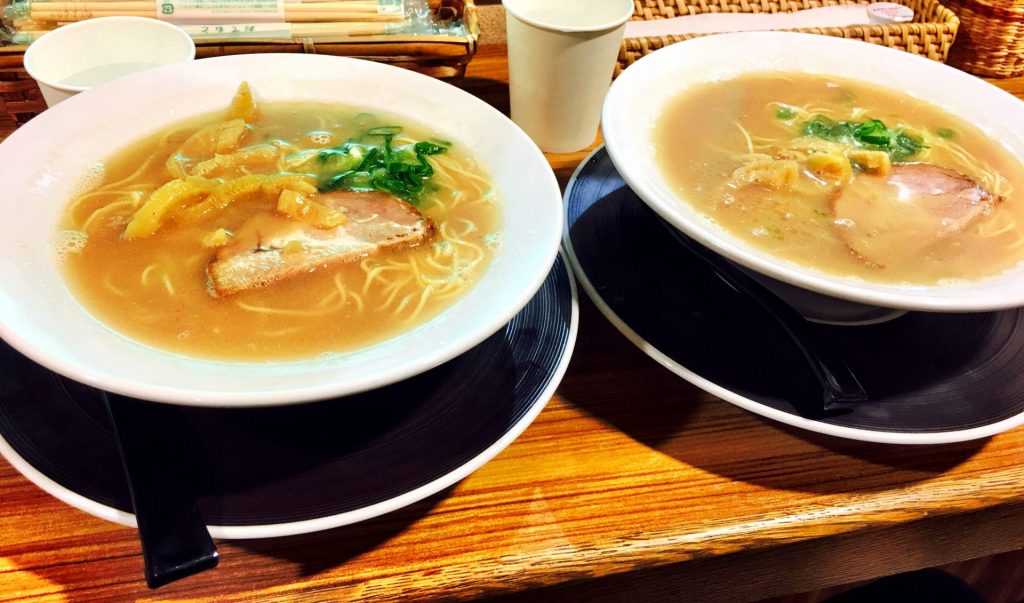 Shop and dine in Canal City Hakata
Canal City is a well-known shopping mall in Hakata built around an artificial canal. Besides shopping and eating, you'll never get bored coming here as some events are held every day. For instance, a fountain show attracts visitors during the night. It's a must-see because it's … Oops, come see and you'll figure out why.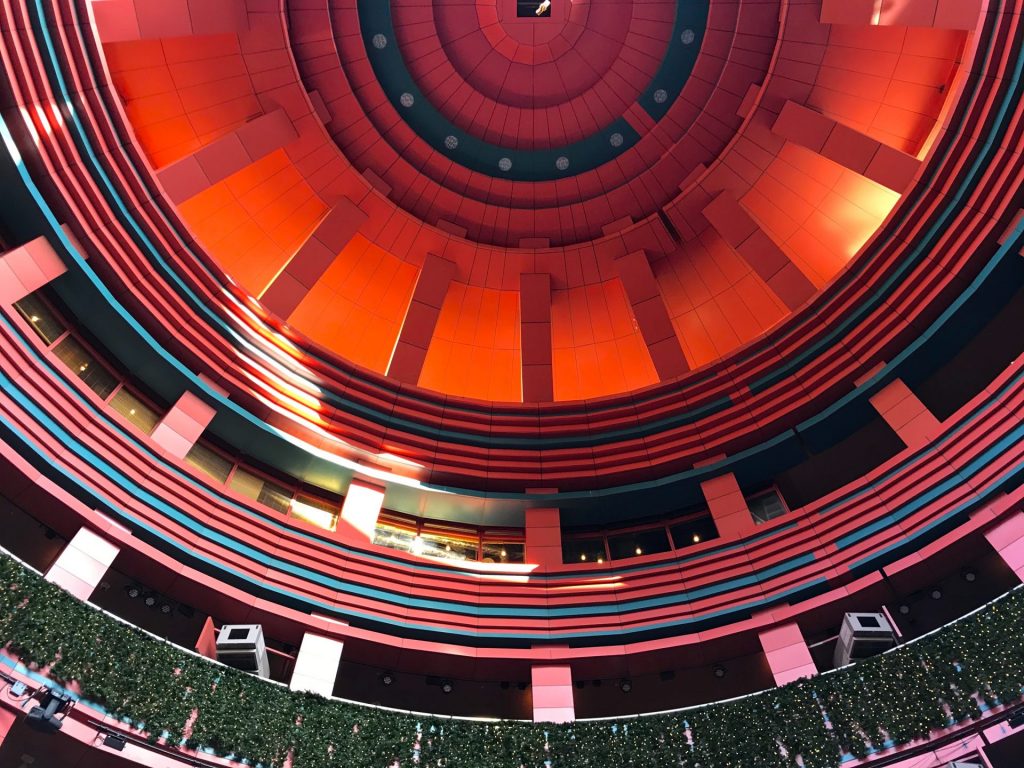 Relax in Ohori Park
Your one-day itinerary must have already worn you out after hours of sightseeing. The best way to end your day-trip is to spend a quiet time in Ohori Park. The big pond centered around the park gives you a sense of fulfillment. On the other hand, if you want a little excitement, hop into one of the swan boats. Boating is just one of the many activities you can do here. Apart from that, you can also go for a jog, sit on one of the benches, and read a book.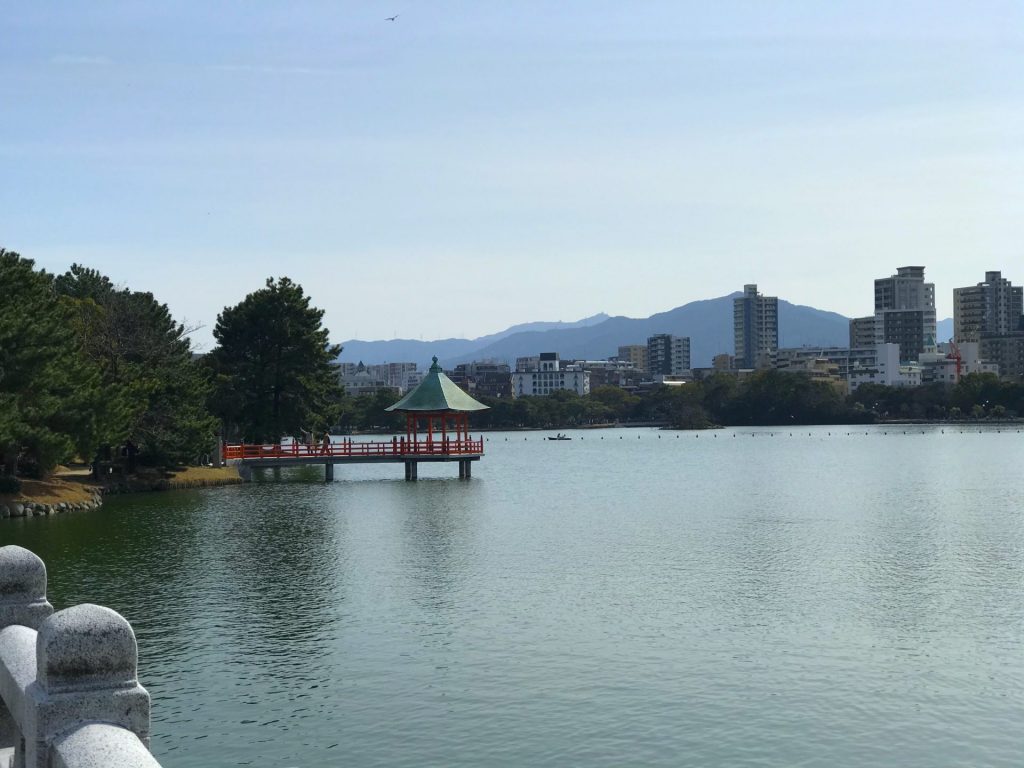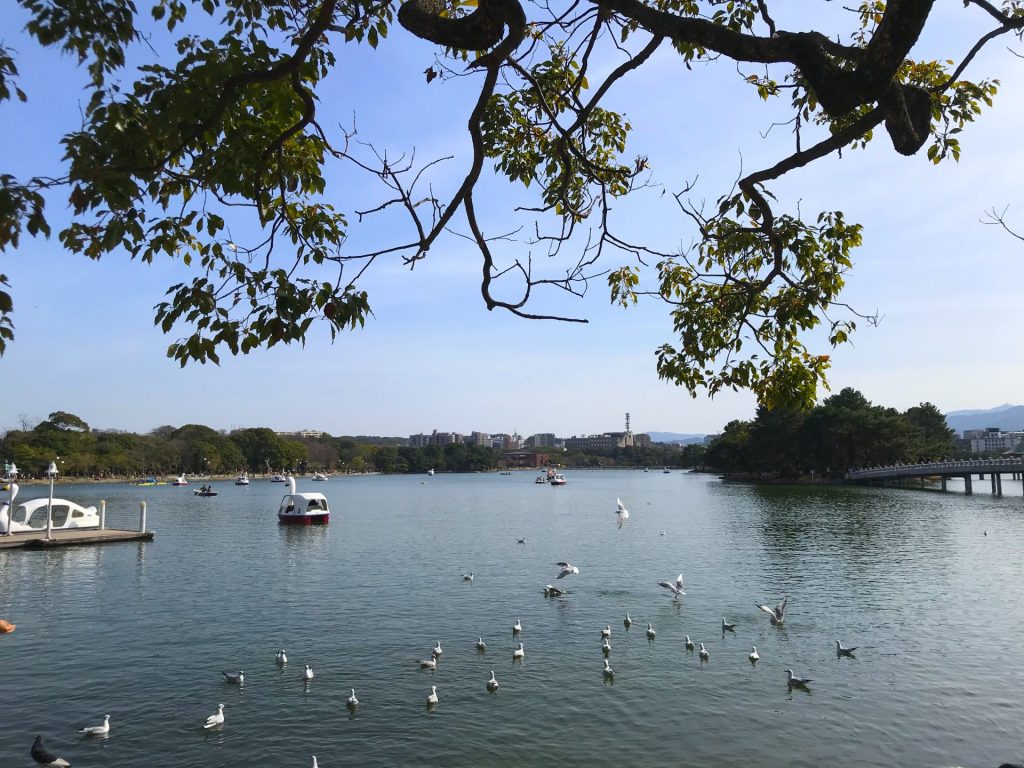 Visit Fukuoka Museum of Art
If you follow the long path of Ohori Park as you head home, you'll pass by this museum. So, why not take a peek? Admission is free anyway. However, the museum offers special exhibitions where payment is necessary. There's no need to worry if you only want to see a few interesting artworks. The one below is just outside the museum where an admission fee isn't necessary.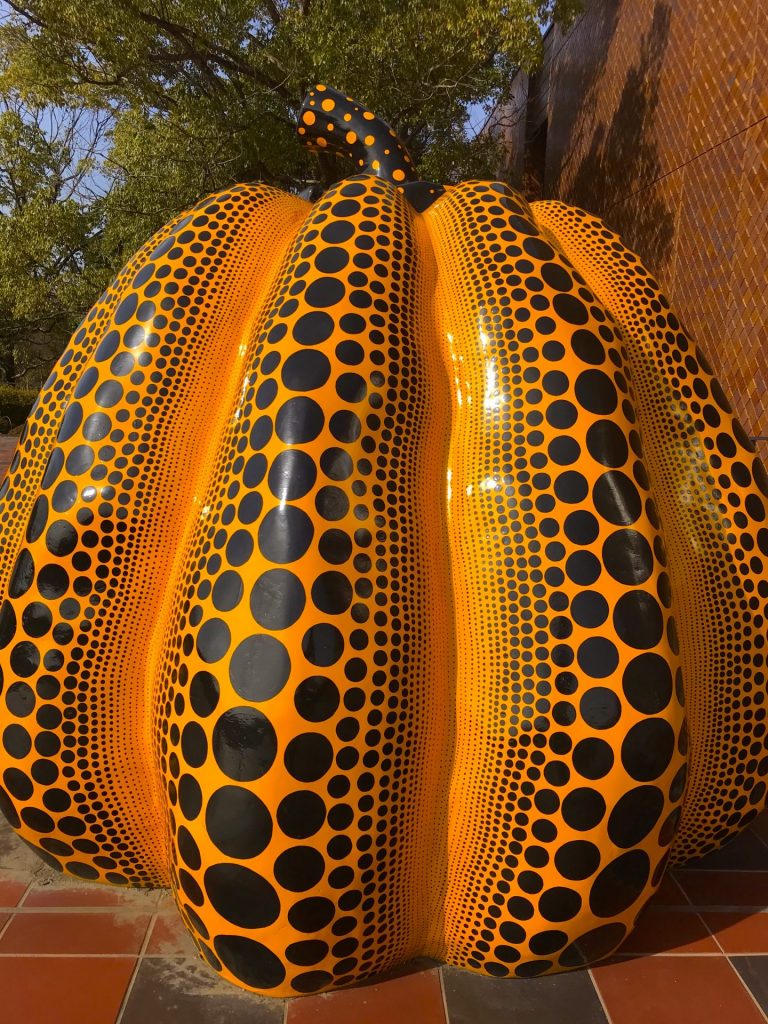 There you have it, folks! One day may sound short for a trip, but with good time management, you're going to pull it off. I am sure about it because we did!
By the way, if you have plans of going to the neighboring prefecture, Nagasaki, please read this.
Wait up! Before I end this post, let me say something. It sounds mushy, but you all brighten up my day. Thank you for visiting my humble blog!