It sounds cliche but when God showered beauty, Oita was wide awake and bathed on it. Located in Kyushu, Oita is the hot spring paradise of Japan with over 4500 hot springs. The big cities of Oita, Beppu, and Yufuin are the two largest hot spring areas. Fret not if you're not into bathing for a day trip to Oita will award you the adventure of a lifetime.
Day trip to Oita
It was a bus tour that took four hours, more or less from Nagasaki Station. Most of the day-trippers we were with were elders. If my memory serves me well, I was the youngest in the group except for the guide who introduced herself as a 21-year old lady.
I honestly didn't expect much from this trip. Much to my surprise, it turned out great. I went home blissful. The scenic routes kept playing on my mind from time to time. They're too beautiful I can't find the right words to express my thoughts. Hence, I hope the photos will do the talking well.
Day Trip to Oita: Itinerary
Fruit-picking in Beppu
The first stop was in Hiji, Fujiwara.
The place is a broad field of mikan or Japanese oranges where you can eat all you can. Ah, a dream come true. Being in the middle of fruit-bearing trees and picking them myself while munching the ripe one gives my heart a wholesome glow. Imagine me closing my eyes, a basket of oranges on my arm, and catching a whiff of the citrus smell while dancing with a smile on my face. I kind of did that here.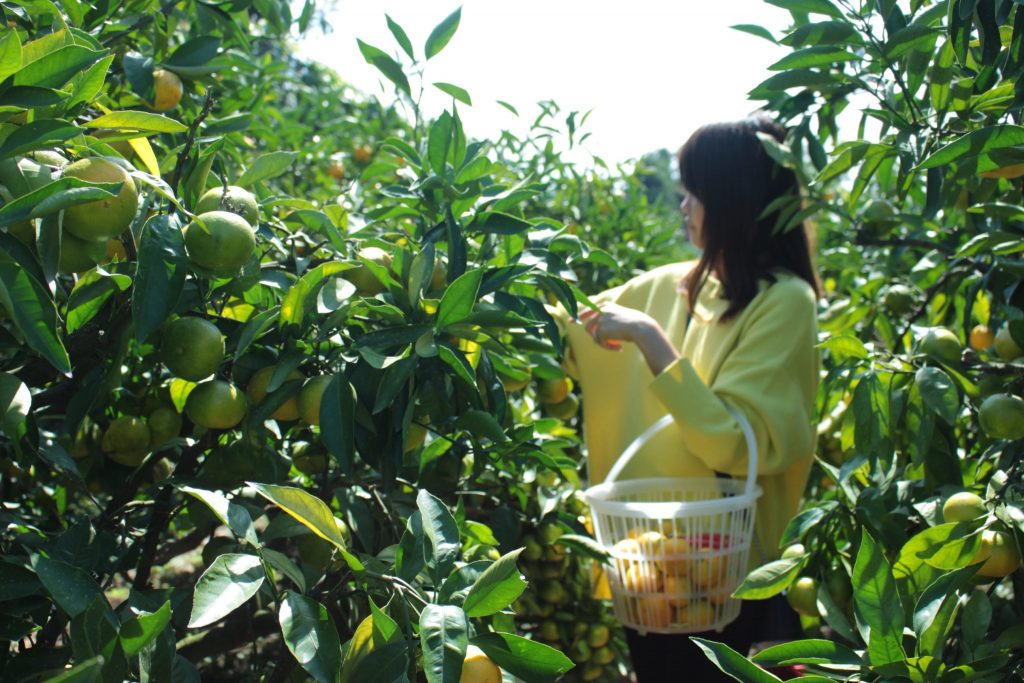 You pay zero for the admission. The only time you need your wallet is after the fruit-picking. The oranges are The highlight of our day trip to Oita is the fruit-picking where we harvested mikan. This is me picking the ripe ones. and you'll be charged for a small cost per kilo.
Onsen Bath
The second stop was in Beppu. Oita is well-known for its hot springs or what the locals call onsen. It was part of the itinerary on this bus tour so most of the elders took a dip, so did my husband. I, on the other hand, declined, for reasons foreigners like me would understand. But I have tried an onsen bath thrice. It's true that an onsen bath has some beneficial effects on your health. If you're shy to be with strangers, naked, do it first thing in the morning, that's what I did in Kumamoto. Japanese people take a bath at night and for sure the onsen is packed at that time.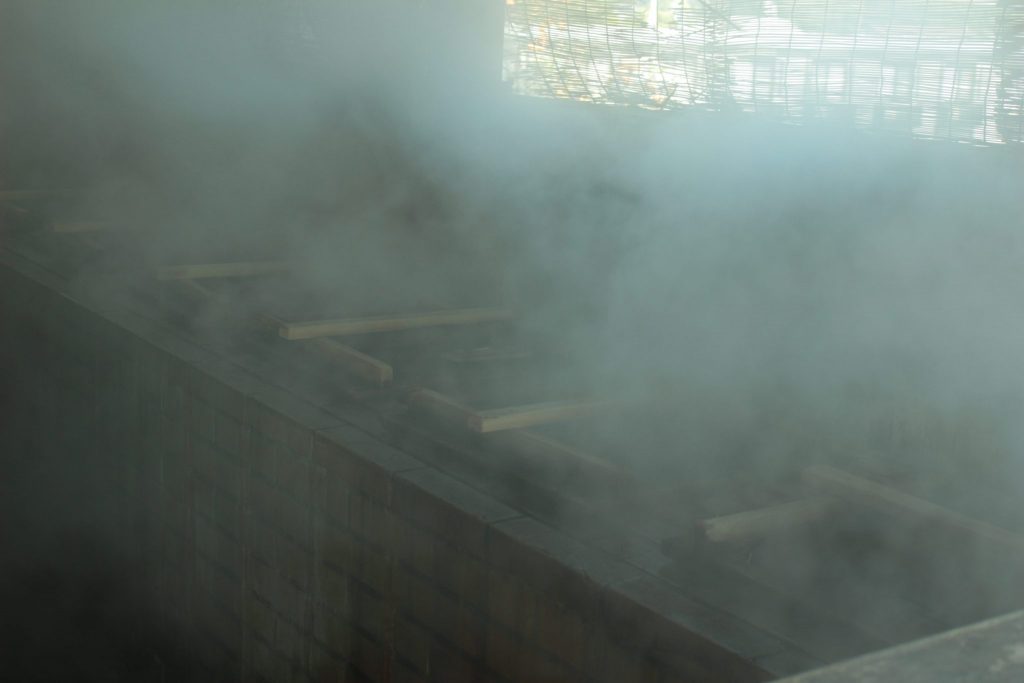 Kuju Flower Park
Kuju Flower Park is about an hour ride from the location of the onsen. Despite the curved road, the ride was not tedious because of the scenic course leading to it. We passed by some volcanoes, golf courses, grasslands, and I even got a good sight of Mt Aso, Kumamoto's famous volcano. That's because Oita and Kumamoto are adjacent to each other.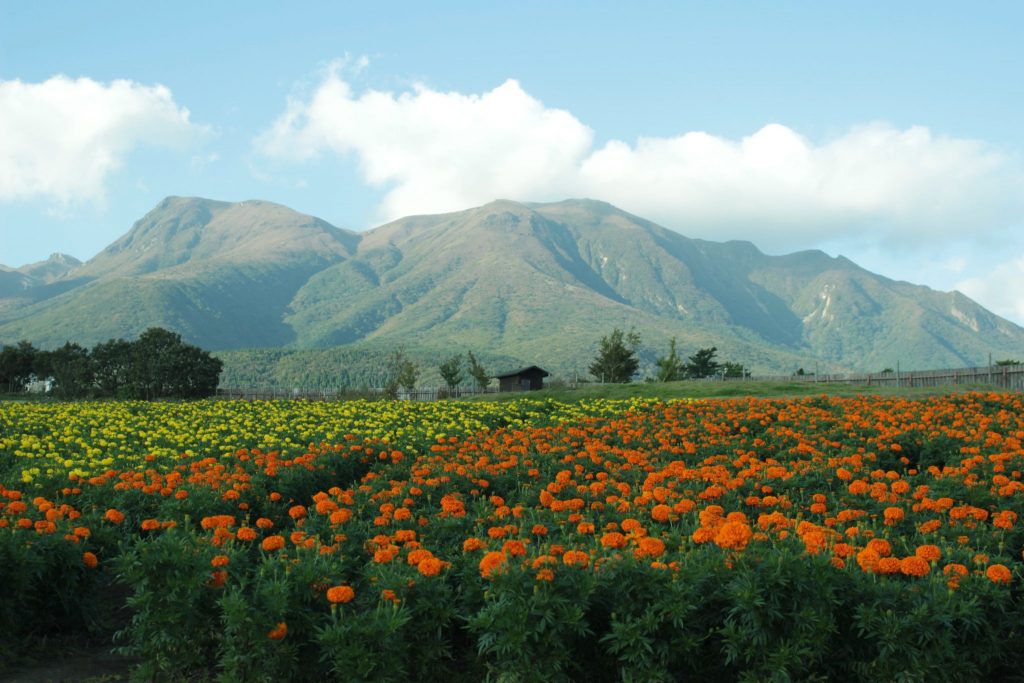 The flower park was vast with seasonal flowers. This picture here shows just a portion of it. With the Kuju Mountains as the backdrop, you're in for a stunning treat.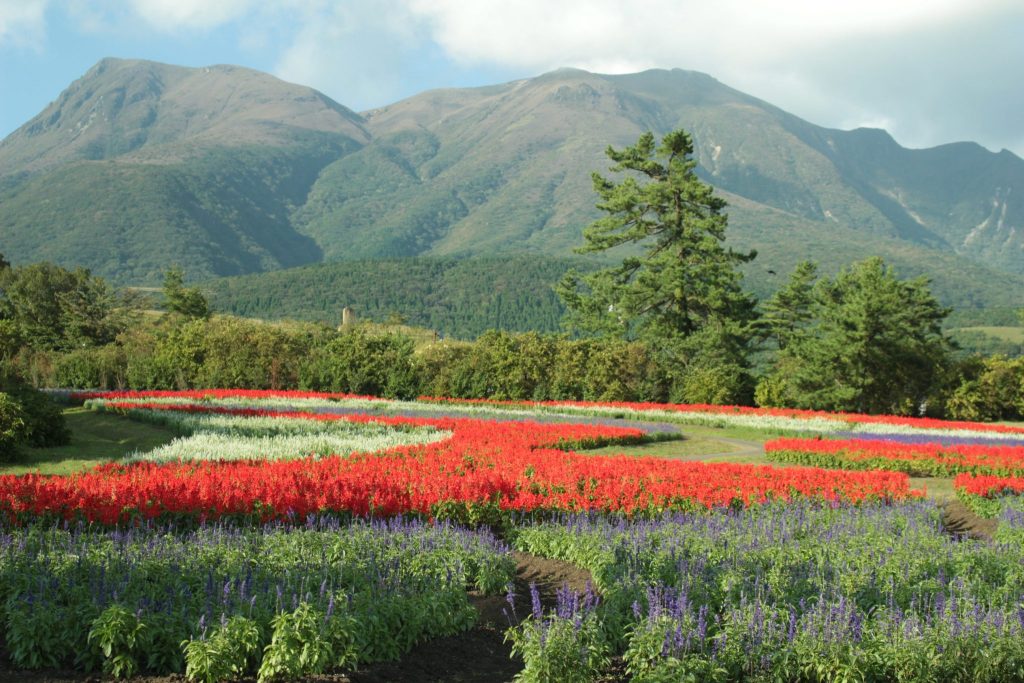 Since the park is wide, you can assume a few shops and restaurants. It also has some tents for stargazin. How romantic that is!
How to Get There
If you want to evade the stress of planning your own trip, a bus tour might be the best alternative. But, if it's the other way around, read this:
From Oita Airport, Beppu is a 45-minute bus ride to the city. Shinkansen services connect Beppu with Tokyo in less than seven hours, Shin-Osaka in less than four hours and Hakata in two hours. c. Japan Travel
So, what do you think? Kyushu is without a doubt a breather. Skip the noisy metropolis, be one with nature!
See more of Kyushu here.