Are you a fellow book lover, a foreigner navigating the literary landscape of Japan with no compass for English treasures? Fear not, for you've stumbled upon the right path. Just like you, I once roamed these bookish streets in search of English books, not just novels but also a wealth of English resources. Prepare to embark on a journey through these bookstores, where English literary gems await your discovery.
List of Bookstores in Japan Offering English Books
1. Kinokuniya 紀伊國屋
This bookstore, it seems, holds the hearts of many foreigners in Japan. Why do I believe this to be true? Well, when I first arrived in Japan, I inquired about a haven for English novels, and the unanimous response echoed: Kinokuniya. This bookstore is a ubiquitous presence – you'll find it in stations, around stations, and nestled within malls. Should you venture to Shinjuku, you'll spot it near Louis Vuitton, a stone's throw from the station. While I've only glimpsed its exterior, its charisma is undeniable. On the other hand, if your journey leads you to Osaka, you'll discover it within Umeda Station, offering an extensive collection of English books. However, it's worth noting that not all Kinokuniya branches in malls offer English books.
2. Junkudo ジュンク堂
It was only a year ago when I stumbled upon this bookstore in Fukuoka. At the time, my love for novels was at its peak. One day, while wandering through Fukuoka's shopping district with my husband, we passed by a building that turned out to be a bookstore. My husband, knowing my passion for books, pointed it out.
Situated in the vibrant shopping district of Tenjin, Fukuoka, this bookstore resides amidst renowned neighbors such as Muji, Zara, H&M, and stands just across from Aesop. While this particular branch offers only a single shelf dedicated to English books and magazines, other locations like the one in Ikebukuro, Tokyo, boast an extensive array of English literature. If you ever find yourself in Ikebukuro, the branch is conveniently positioned near Seibu Station, unmistakably marked by a towering 'JUNKUDO' sign.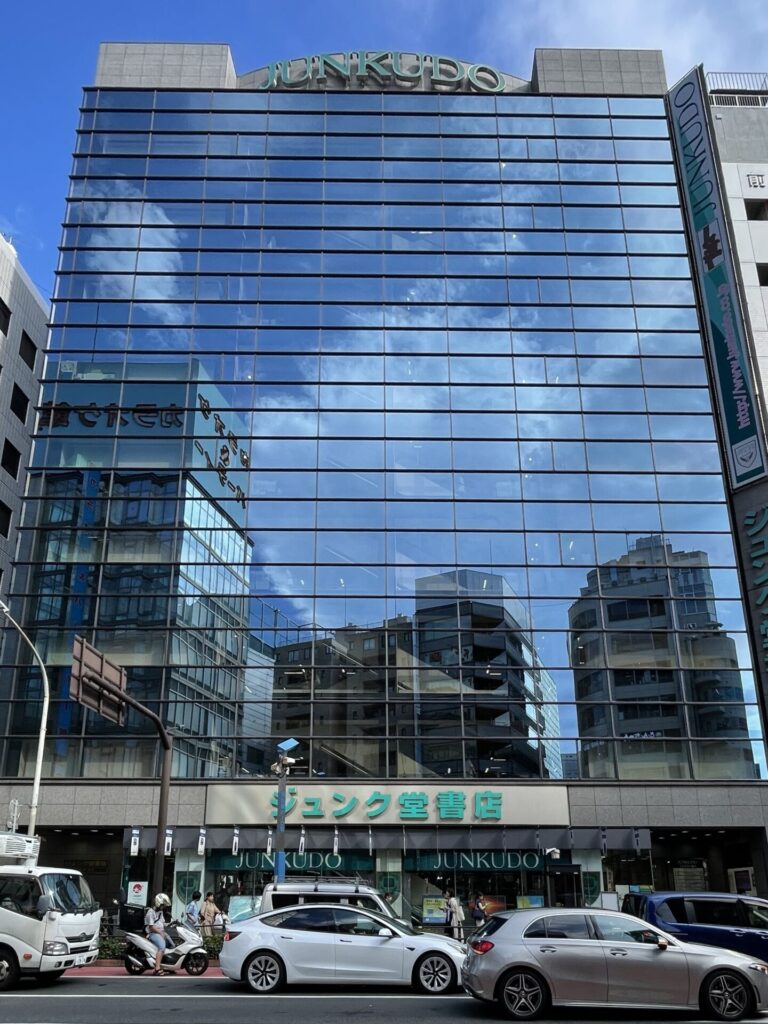 3. Maruzen 丸善
And finally, the crown jewel – Maruzen! Much like my discovery of Junkudo, this literary wonder revealed itself to me just last year. Picture this: an epic book haven nestled within Hakata Station in Fukuoka. It's not just big; it's a literary colossus! In addition to books, they also offer items like reading lamps, tote bags, school supplies, and more. They have a section dedicated to English reading materials, with two long shelves stocked with them.
As for other Maruzen branches, they remain uncharted territory for me, and I'm unable to offer recommendations beyond my current knowledge. Yet, as my bookish adventures unfold in the future, this space will eagerly embrace new discoveries and guide you to hidden literary treasures.
If these bookshops seem out of reach in your neighborhood, why not venture into the world of Amazon? Online orders whisk your literary desires to your doorstep with ease. And for those unacquainted with the wonders of Kindle, an exciting journey awaits—explore its magic. If your wallet permits, a single click can transport you to a realm of words, where you can dive into your new book instantly.