Chifure Moisture Cream is an affordable moisturizing salve in Japan. It's one of the products produced by the Japanese company Chifure. Known for their reliable, high-quality yet low-priced products Chifure has been in the cosmetics industry for over fifty years.
Just a little backstory. A few years back, I had the opportunity of using Chifure's products when my mother-in-law sent me a package. I had no complaints about the products as they're pleasant to my sensitive skin, yet I didn't repurchase. I bet you're wondering now that if I was happy with them, why didn't I repurchase right away. Well, in my defense, I still hadn't emptied them when I went back home to my country. The second reason was, I have to admit, I kind of taken them for granted. I know right. My bad. At the time, I was hoping for something else better. Hence, I had overlooked them.
But, I'm glad to let you know that I made it up to Chifure. I recently got my hands on one of their moisturizing products, the Chifure Moisture Cream. I've been using it for quite a while now which means it's high time to share my experience with this one. Has it met my expectations? Please continue reading to find out.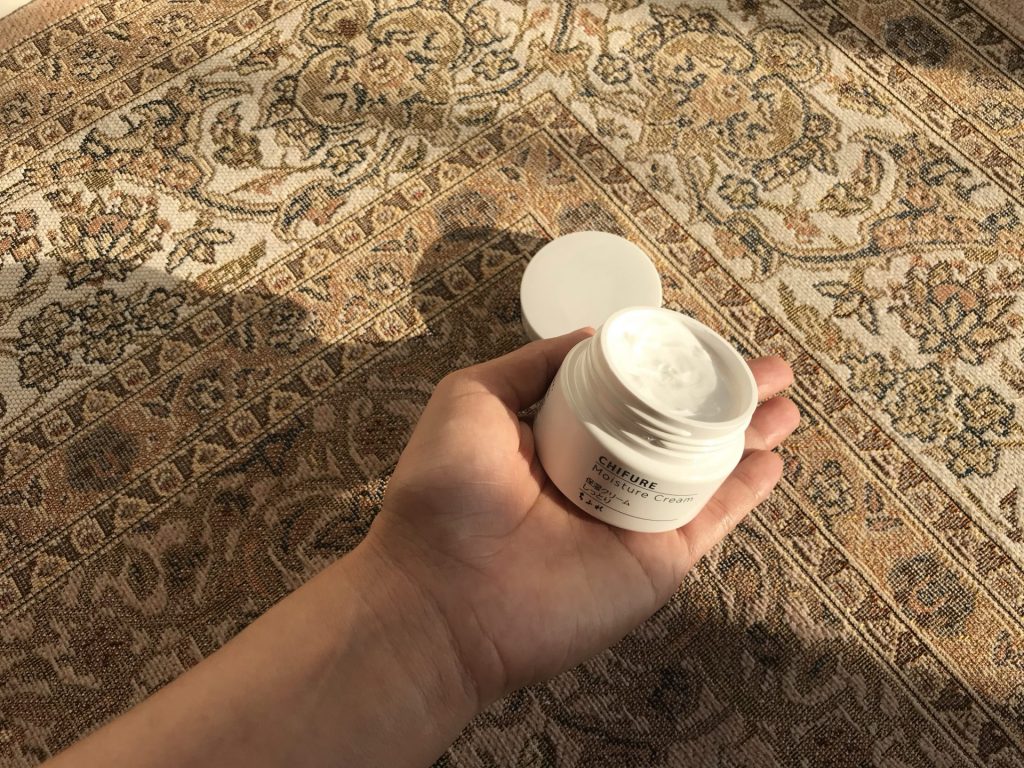 Product Features
The ultra-moisturizing ingredients, hyaluronic acid, and trehalose keep the skin lustrous and smooth.
It has a hydrating texture that keeps your skin plump and dewy.
Fragrance-free
Alcohol-free
It has Methylparaben as one of its ingredients.
No artificial colorants are added.
It's refillable. That said, don't throw the container away if you'd like to use it again when you repurchase.
Made in Japan
How to use the cream
First, wash your face.
Next, apply a toner.
Finally, put the right amount of the moisture cream onto your face.
You can also apply it after putting on a sheet mask or serum. Then, leave it overnight.
Chifure Moisture Cream: Honest Review
Pros
The ultra-moisturizing feature is true to its claim. My skin is moisturized.
In the morning, my face is radiant-looking.
When touched, the skin is supple. I love it!
It's lightweight and non-sticky.
Money-wise, it's reasonable.
I had no allergic reactions to this cream.
I love its fine texture. It's neither watery nor sticky.
Cons
First of all, it has paraben. No need to worry though as it's indicated that the amount added is safe for the skin. But I would like to point it out for the sake of those who avoid parabens.
There were times when two red spots appeared especially on the sensitive areas under the eye. It was the next day after leaving it overnight. I couldn't figure out why, so I did some research, and I found an honest review about it. According to the review, it's the amount of cream that caused it. That's why be cautious not to put the cream on the sensitive areas of your face. Most importantly, make sure to only apply the right amount. Too much amount yields oily effects.
What's the right amount then? In my case, I scoop it thrice using my index finger. An amount similar to a five-yen coin is also adequate.
Would I repurchase Chifure Moisture Cream?
If a product doesn't give me an allergic reaction and that tingling sensation, I approve. However, since it has paraben, I might not repurchase it. It's a shame because I like this product but the parabens made me reluctant about it.
To those of you who are confused about what paraben is, let me shed some light. According to an article, parabens are chemicals that are added to a product to preserve it. This can be harmful to the skin if there's too much of it. Hence, as much as possible, consumers avoid it.
I admit, given that I have sensitive skin, I thwart from using products with paraben. But, it doesn't I'm not using one now. In fact, I'm using two products with parabens and alcohol. Fortunately, so far, I don't see any problems. Nevertheless, from now on, I'll make it a habit to check the ingredients before buying.
As for recommending it, yes I would recommend this product because the results are great. This is also your go-to brand when you're looking for cheap but high-quality cosmetics in Japan. But then again, since it has parabens, you might wanna try another brand.
How about you? Have you ever tried Chifure? If so, what Chifure products do you swear by?
For more Japanese product reviews, click here.