Last time, I wrote about Curel Deep Moisture Spray which is your go-to face and body mist. Since I love Curel, I am writing another product from this brand. I'll be sharing with you the Curél UV Protection Essence SPF30 PA+++ to help protect your skin from the UV rays in these scorching hot summer days.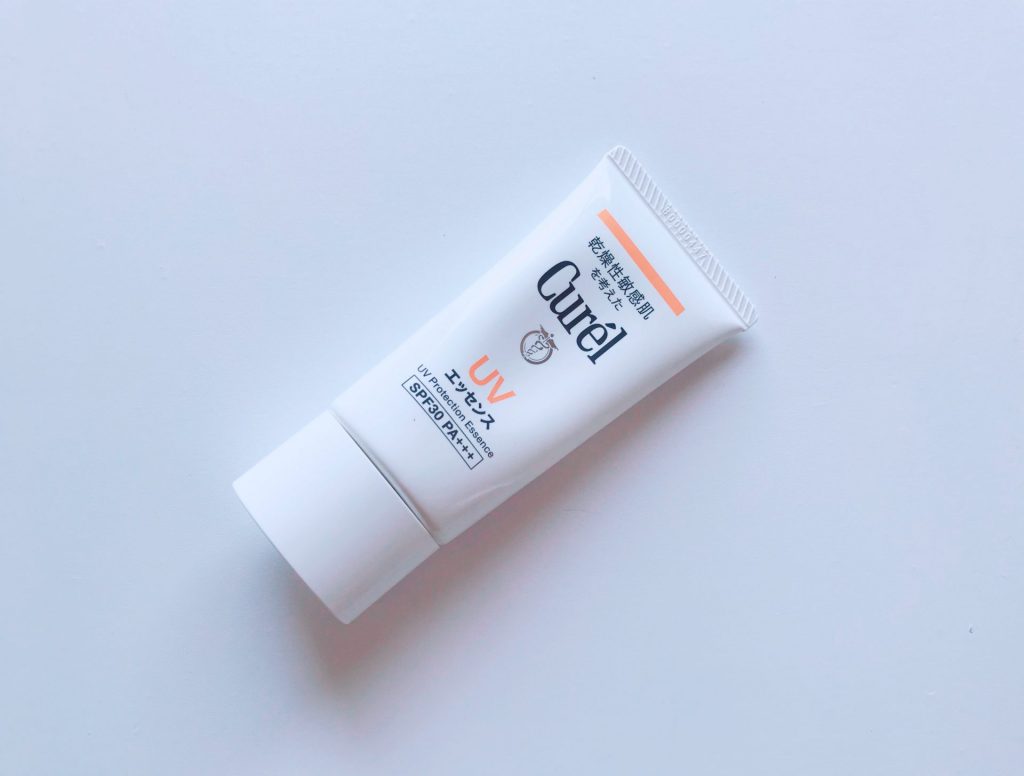 Back in my early twenties, I had this thought that you only need to wear sunscreen when you're on the beach. I know it sounds funny and so ignorant of me to think that way. But, that's the truth. Wearing sunscreen was of no importance to me. Not until I met my husband and not until I experienced living in Tokyo where I noticed how much Japanese love taking care of their skin. I don't know, I just thought that there's no point worrying about getting a suntan. Being raised in the seaside village with the seashore just a few steps away from our house might have contributed to it. I thought I was immune to the heat. Now, though, it's different. I keep telling my husband to always wear sunscreen whenever we spend time in the outdoors, especially when he plays golf.
What pushed me to start using sunscreen?
I have read some articles about the importance of sunscreen. Regardless, I wasn't convinced. Then, one time I was out in the sun, and I felt a sharp tingling sensation that dug through my skin like pins and needles. It woke me up from my being complacent about not wearing sunscreen. You see, Japan's summer heat is insane. So, last year, I started using sunscreen which I only used on my arms and legs. I decided to buy one for my face a few months ago when I realized that my face needs it the most. At the age of 30, I am starting to notice wrinkles and dark spots on my face. In fact, I noticed a red spot a few months ago. I took it as a warning that my skin is aging, and that it's high time for a skincare routine and UV protection.
That's how I got my hands on Curél UV Protection Essence SPF30 PA+++. Know more about the product by reading the full article.
All About Curél UV Protection Essence SPF30 PA+++
Product Features
contains Ceramide and Eucalyptus extract that strengthen your skin against environmental pollutants
alcohol-free
non-sticky
fragrance-free
can be used as a make-up base
protects against UV rays
It can be used on baby's skin.
solve your skin dullness and skin pigmentation
Curél UV Protection Essence Ingredients
Water, Butylene Glycol, Dipotassium Glycyrrhizate, Isononanoate, Eucalyptus Globulus Leaf Extract, Titanium Dioxide, Dipropylene Glycol, Thujopsis Dolabrata Branch Extract, Isotridecyl Isononanoate, Dimethicone, Phenoxyethanol, Potassium Hydroxide, Stearyl Alcohol, Sorbitan Stearate, Dextrin Palmitate, Aluminum Hydroxide, Polysorbate 60, Neopentyl Glycol Dicaprate, Stearic Acid, Tromethamine, PEG-400, Petrolatum, Cetyl-Pg Hydroxyethyl Palmitamide, Acrylates/​C10-30 Alkyl Acrylate Crosspolymer, Agar, Disodium EDTA, Sodium Methyl Stearoyl Taurate
How to use Curél UV Protection Essence
After washing and moisturizing your face, squeeze a dollop of the cream onto your palm.
Gently pat onto your face and massage it gently.
If you want your overall face to be protected from the damaging UV rays, make sure to put the right amount enough to cover the areas of your face.
When is the best time to use sunscreen?
The best time to use sunscreen is all year round. Rain or shine. Yes, you read that right. It's advised to wear UV protection every day because the earth's UV rays reach the earth's surface every day. But, it's the strongest from 10 A.M to 2 P.M daily. This is why you had better avoid exposing yourself to the sun at these hours of the day. In the case that you have to, make sure you got yourself protected with sunscreen.
What do SPF and PA mean?
To those of you who are new to sunscreen, this will help you understand UV rays stuff related. I have to be honest, I am no expert in terms of this stuff so I did some research. Here it goes.
SPF stands for Sun Protection Factor. The value of the SPF shows the level of protection it has on your skin. The higher the value is, the higher protection the sunscreen does on your skin. For example, 30 means it's 30 times stronger in guarding your skin against the UV rays.
Onto PA. PA stands for Protection Grade of UV-A. PA+ signifies the product as having "protection efficacy". The more "++" a product has, the stronger the protection efficacies it has. Thus, PA ++ and PA+++ indicates strong protection efficacies. To conclude, the higher the SPF value, the higher the PA value is.
What are the types of UV rays?
First off, there are 3 types of UV rays, UV-A, UV-B, and UV-C rays. UV-A and UV-B are rays that reach the earth's surface, while UV-C rays are absorbed by the ozone layer.
UV-A rays can penetrate the skin. Long exposure to UV-A can accelerate skin aging which results in wrinkles and sagging. It also causes the skin to become dark immediately after exposure to the sun.
Now, onto UV-B rays. They are the cause of the stinging sensation you feel and the skin redness when there's too much exposure to the sun. This happens because the melanin levels in the skin increased when your skin is exposed to the sun. If the melanin levels rise, the moisturizing ability of the skin falls. This results in the appearance of red spots, dark spots, wrinkles, dry and rough skin. Unlike UV-A, UV-B doesn't turn the skin dark immediately, it turns red first and dark after a few days.
Curél UV Protection Essence Review
Pros
I rarely put on makeup when I stay outdoors and my dark circles tend to make me look tired. This sunscreen is like a concealer/foundation to me. It conceals my dark circle and it enhances my skin.
The red spot that I noticed on my right cheek a few months ago disappeared. I don't know if this sunscreen is responsible for its disappearance, but I give the credit to it.
My skin looks bright and glossy after the application.
It covers up the skin pigmentation on my face.
Long-lasting. After spending long hours in the outdoors and even when I sweat after practicing golf, it doesn't wear off.
It's lightweight and non-sticky.
I didn't experience any allergic reaction.
Fragrance-free. Although I like fragrance, I learned that fragrance-free skincare products are best to the skin so this is great.
Cons
I don't know if it's normal to feel the heat when you use UV protection, but I feel that after the application even if I still haven't gotten outside.
Verdict
Since there was no allergic reaction, I feel protected from the sun and my face looks fresh when I wear it, I give it my highest recommendation.
By the way, another sunscreen that I vouched for is the Suncut Tone Up UV Spray. The one with the mickey mouse design and colored purple. Do try it.

You can buy the product by clicking the banner above. But, if you preferred buying in a physical store, Japanese drug stores have it.
To cap this post off, I would like to say that wearing sunscreen doesn't merely mean you don't want to have dark skin. I am a believer that everyone looks good no matter what the color is. We wear sunscreen because the UV rays can cause skin diseases.